What is Bookchain®?
Security. Traceability. Attribution. Distribution. In the publishing industry, these are the pillars of success.
Bookchain® allows authors and publishers to configure all of the above-mentioned elements for each of their digital publications, including reselling. The benefits are twofold: using a Non-fungible tokens (NFT) technology, creators can protect their intellectual property against theft or piracy while rewriting the rules for ebook distribution and management, and readers can enjoy their ebooks using absolutely any device with a web browser.
With Bookchain, here's what the future holds
Empowered writers and content creators who can protect their rights and decide how their work is shared with the world. Publishers that can easily manage the distribution, attribution, and traceability of an author's work. A user-friendly blockchain NFT solution that accepts the cash you already have in your wallet – no cryptocurrency needed.
The functionalities
Security
With Bookchain®, you can publish and distribute content in a way that works for you. Thanks to smart contracts and NFT our platform enforces the publishing parameters you choose in a clear-cut, indisputable manner, combatting the likes of illegal copying and transferring, or worse – hacking.
Immutability
Using NFT technology, every last action and transaction associated with your ebook is set in digital stone. Blockchain is simply a ledger that keeps track of all the essential data linking you to your intellectual property, including identifying you as the original publisher. Data that has been added to a blockchain can never be changed, even by an administrator; you can always be sure that the information stored in the blockchain is accurate and unaltered.
Traceability
Think of Bookchain® as a handy map: with our platform, you can see where each copy of your ebook is living in real-time, and how many readers have purchased your work to date! Each time you sell an ebook, or a copy hops from one reader to another, you'll be in the know.
Attribution
Each smart contract contains the associated ebook's metadata. The Bookchain® library is directly linked to an ISBN database, making it easy to fill out the smart contract, identify who owns the rights to specific digital content, and even divide and distribute royalties.
Distribution
Bookchain® NFT technology allows authors and publishers to lend out and resell their ebooks without involving a third party. This means direct transactions between readers and providers, immediate distribution of royalties, and no risk of your ebook being pulled from someone else's digital shelves.
Freedom and Ownership
Gone are the days of needing a specific application or e-reader to enjoy a good book: our online library is compatible with any web browser on any device! On the whole, the Bookchain® NFT experience is also the closest thing to owning a paper copy: readers are given full rights to each ebook, as opposed to indefinitely renting the content from a third party.
How can I publish my book on Bookchain®?
Create your account
First, create a user account on the Bookchain® site. It will only take a few minutes before you're all set up!}
Upload & manage your book
Your account dashboard will neatly lay out all the tools you need to upload and manage your digital files – just bear in mind that we're still in Beta version and that we currently only support epub files exclusively. You will also be able to access helpful analytics that explore your sales figures, transactions, and operations.
Set up your smart contract
Once the epub file is uploaded, it's time to fill out our simple, intuitive smart contract template. This document lets you personalize your publishing and distribution settings, including price, number of copies available, royalties, resale permissions, and more. The contract is activated upon publication.
Share your work
Now that your book has officially been added to the blockchain, your ebook will go live as the newest member of the Bookchain® catalogue. You will also receive a link that allows you to distribute and sell your ebook, which you can share on your personal site and social media to spread the word!
Make a sale
Someone wants to buy your ebook – easy breezy! To do so, all they need to do is click on your link or the catalogue and they will then be redirected to the Bookchain® platform, where the transaction will be completed. Once they've paid, the ebook will appear in their personal Bookchain® library, and their literary adventure can begin.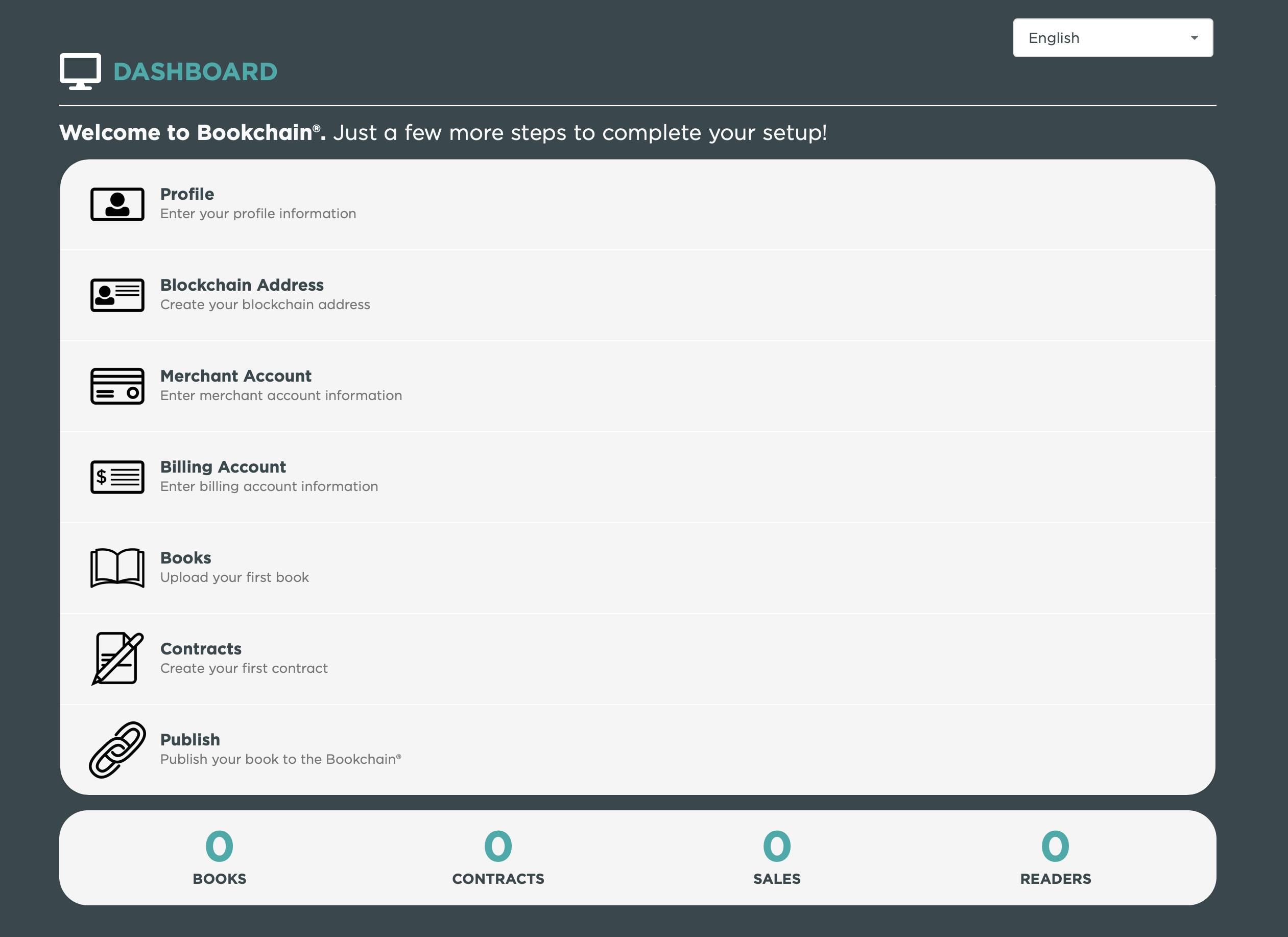 The Pricing
Nothing in life is free, but we tried to get as close as humanly possible! Bookchain® charges small user fees that covers the cost of all blockchain-related transactions, so you'll never have to contend with the dizzying world of cryptocurrency – phew. We like transparency so here's the breakdown:
Publication and contract activation
Each title you publish with Bookchain® comes with a one-time activation fee to add the ebook to our library, validate the parameters of the smart contract, and ensure that your ebook is protected against theft and piracy. This fee is paid per title, not per copy.
Licence usage fee
In order to cover the cost of using Bookchain®'s license, protecting your intellectual property, and producing an ebook token (think of it as printing a copy of your book, digitally), a small fee is charged for each copy sold via our platform. This fee is covered by the publisher.
Sharing Fee
If resale is enabled, transactions involving your ebook are subject to a small fee, applied to the sale and resale of each copy. This covers the cost of processing the transaction and enabling the transfer of your ebook between two parties. This fee is covered by the buyer.
Gas Fee
Blockchain takes computer power! The gas fee represents the fee of the transaction on the Ethereum network - in other words, the cost of handling the operation on the blockchain and validating the terms of the smart contract. This fee is variable and covered by the buyer